Latest posts by Malik Jackson
(see all)
The San Jose Sharks longtime forward, Patrick Marleau, officially broke Hall of Famer Gordie "Mr. Hockey" Howe's long standing most games played in the NHL record on Monday night against the Vegas Golden Knights. Marleau, who is 41 years old, played his 1,768th game.
He was drafted in the 1997-98 NHL Draft by the Sharks with the second-overall pick. The special part about Marleau's accomplishment is that it took three less seasons (23) to conquer the record, while it took Howe until the age of 51, which he later retired after his 26th season.
The Sharks gave Marleau a pregame video celebration in the locker room along with the organization making special commemorative patches for each players' jersey. The video consisted of various teammates throughout his years of playing and after the game, each player got to keep their game worn jerseys to take with them for the special date which will remain in Sharks' infamy.
Marleau also had custom gloves with the documented games played, which included well stitching with golden letters on the left glove and on his right engraved the teams he's played for throughout his career.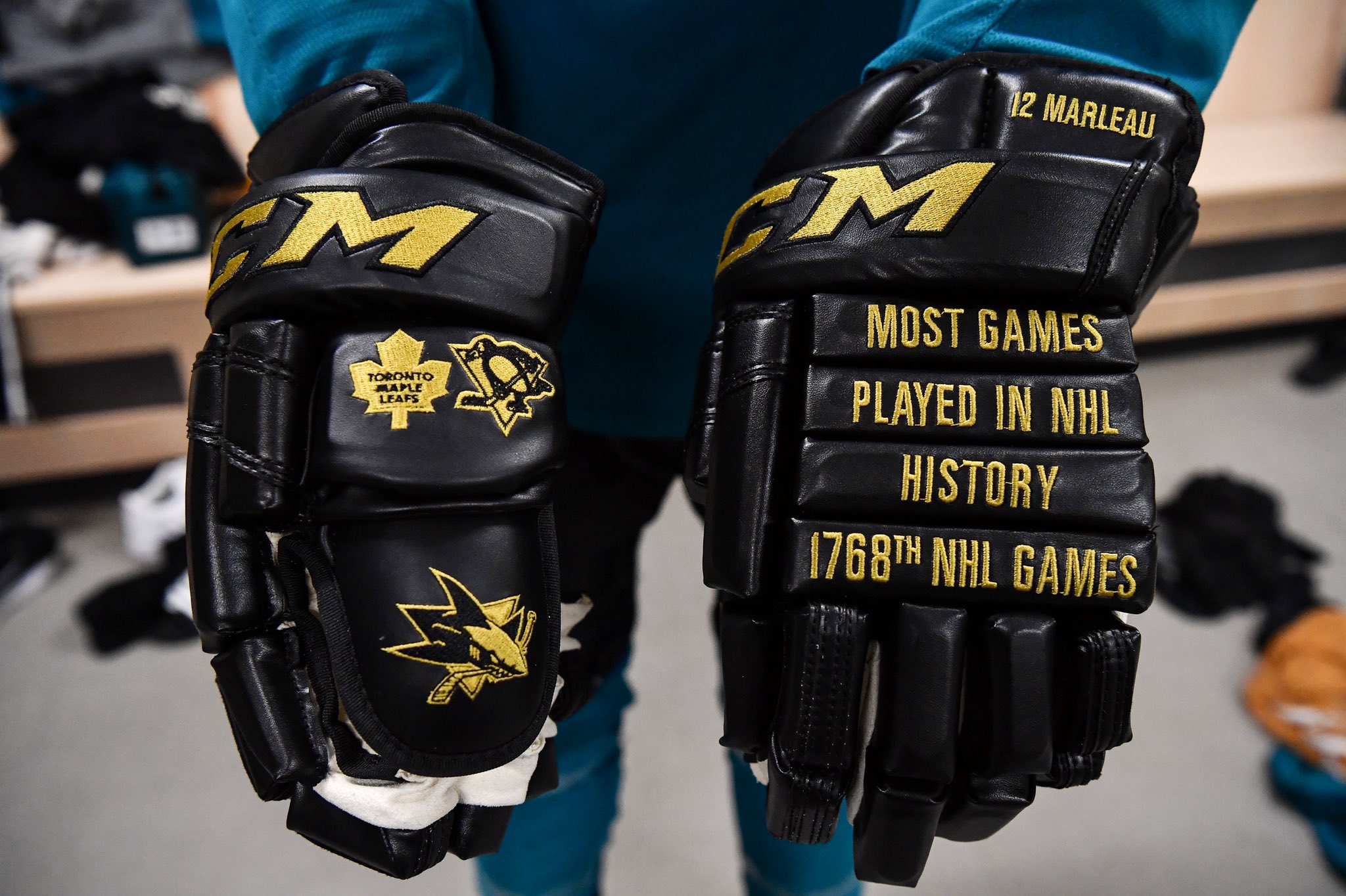 The Golden Knights and their fans displayed humility as well. After Vegas won the game by a 3-2 shootout, the players lined up and shook Marleau's hand to honor him.
"As much as you hate your opponent, as much as you want to beat your opponent, you still respect your opponent. I think everyone in our locker room respects the hell out of what he's doing," said Golden Knights captain Mark Stone. "For him to play 82 games a season, never miss a game, always be there, it speaks volumes about what kind of professional he is."
Marleau also spoke about this experience after the game.
"The emotional roller-coaster was definitely a long ride and I'm blessed to have been able to do this……..So many emotions going through your head," stated Marleau
For the "Iron Man", this was his 899th consecutive game being played in a row, which is second upon active players playing today. Not only is the Shark's forward the all-time leader in games played, he's pretty much first in every category for the organization; points, games, shots and game-winning goals.
Thus far in his career, he has 1,196 points on 566 goals and 630 assists.
The Sharks will have an on-ice ceremony when they return back home at SAP Center on Saturday when they take on the Minnesota Wild.