By Raphael Haynes
Today's NBA has been dominated by "The Big 3" era. We have been blessed to see Big 3's from the San Antonio Spurs, Boston Celtics and Miami Heat, which have all won titles. As teams try to form this combination of stars, there was a time when organizations tried to draft an elite duo.
When you think of top duos, usually it's measured by rings together. Well there is more to it than just that.
Here are the criteria of getting on Mr. Controversy's list: Continuity is the most important. You have to make an impact together. Next is domination, being unstoppable together. Finally longevity. The longer you play together the more continuity and dominant you become. Championships are a plus but not a deciding factor.
Here we go!!!
10. Shaq & Penny; 1993-1996
This could have been maybe the top duo of all times if they hadn't broken up. Anfernee (Penny) Hardaway was a silky smooth point guard with great scoring capabilities but was a pass first PG. You team that up with the most dominant center that has played the game in Shaquille O'Neal. Shaq and Penny were and might be the best unselfish center-point guard combination. Why 10, they only played three years together.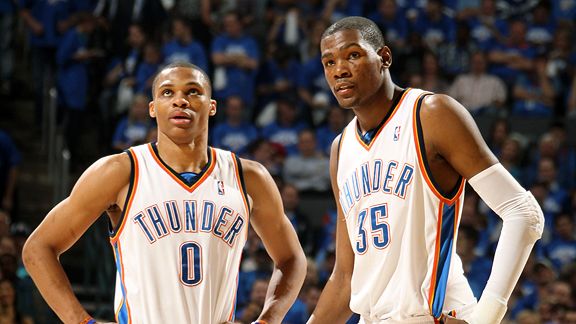 9. Durant and Westbrook; 2008-present
This combination seems to be an offensive arsenal that hasn't been figured out by 95% of the league. Russell Westbrook might be the most athletic player ever in the NBA. He can score anyway you need him to. Kevin Durant will go down as one of the best scorers ever. His length, handles and shooting range are unfair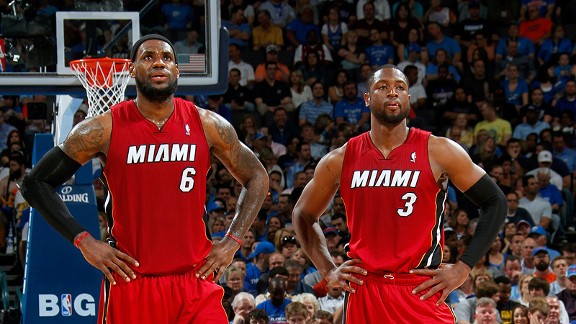 8. LeBron and Wade; 2010-2014
These two have been stellar together. They've won two rings while getting to the finals each year they've been together. Dwayne Wade's ability to score on anyone and do it at his own pace makes him hard to guard. LeBron James can dominate the game anyway he chooses. Why are they ranked #8? You can only count the first two years together. Wade has been hurt and hasn't played at the level he did before.
9. Mullin and Hardaway; 1989-1996
This duo of Tim Hardaway and Chris Mulling was run and gun! Hardaway the creator of the "Killer Crossover" was a gym rat that could pull up and hit the 3 pointer on the fast break or drive to the whole. Mullin was silky smooth. He could shoot from anywhere and he could also face you up. They never had a team good enough to get past L.A. but they were a headache for defenses.
6. Payton and Kemp; 1990-1997
The Glove and Rainman were one of the top duos of the 90s. Gary Payton (GP) was an intense player who could score, pass the ball and shut a player down defensively. Shawn Kemp was one of the most exciting players in the game. People slept on his 15ft jumper he knocked down with consistency. The Payton to Kemp connection was a gift to watch and the chemistry was shown from the lobs for the emphatic dunks.
5. Isiah and Dumars; 1985-1994
These are what you call killers! Isiah Thomas was a player who played with so much aggression but could do it all. Joe Dumars was the opposite with his quiet demeanor but his game wasn't that quiet. They would take turns ripping opponents hearts out. Both played defense and both were clutch. They also were Finals' MVP's during the back-to-back championships.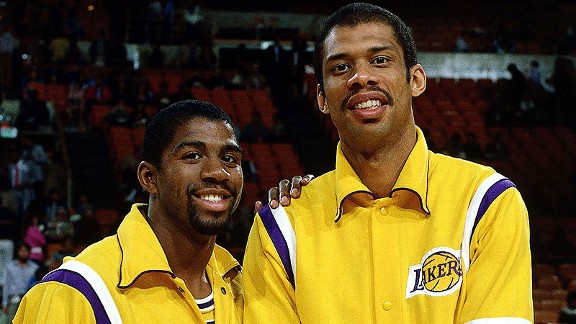 4. Magic and Kareem; 1979-1989
Magic and The Captain was a partnership that was destined for greatness. Magic Johnson made life easier for Kareem Abdul Jabbar. Distributing the ball to him at the right time in the right place. Kareem made winning for Magic easy by playing at a high level and dominating games. They won five championships together while making eight Finals appearances. Why #4? After 85' it was more of the big 3 including James Worthy.
3. Stockton and Malone; 1985-2003
These two could play the pick-and-roll in their sleep. John Stockton and Karl Malone is probably the most perfect match on this list. You have the #2 scorer in NBA history in Malone and the #1 all-time assist leader in Stockton. They were never able to win a championship together. Both men wouldn't have the stats that they own individually without each other.
2. Shaq and Kobe; 1996-2004
Who said you can't like each other and still dominate? O'Neal and Kobe Bryant have had the most unique relationship in NBA history. Yet still, they were the best scoring duo ever. Bryant had the athleticism and the skills to torture opponents while Shaq dominated every opponent he faced. You couldn't even pick your poison because they were that good. They won three rings in four Finals appearances.
1. Michael and Scottie; 1987-1998
The greatest duo of all time can easily be Michael Jordan and Scottie Pippen. It was the first time that two superstars had a big brother and little brother relationship. They probably were the two best defensive players in the NBA while they were playing. They knew how to feed off each other as well. When Jordan needed Pippen, he was there for him. When they would dial in and needed that run, both would come up big in different ways. They won six titles in six Finals' appearances.